If there's one thing many of us feel we need, it's more kitchen storage space. It seems like there's always some new doodad to buy for the kitchen. And putting it all somewhere can get to be a challenge. But that's why they invented fold-away kitchen storage.
These design elements are defined by how they can fold or roll in some way to create more storage without visibly taking up more space. It's practically like having a storage area bigger on the inside than the outside. Below are some ideas for making the most of fold-away storage in the kitchen.
Expandable Cabinets
A popular idea for fold-away kitchen storage is cabinets that pull out instead of swinging open. This often gives an increased amount of storage, since you can use the whole space under the counter more easily.
Traditional shelving in cabinets has a primary problem. What usually ends up happening is that you use the front part of the space because that's the easiest to access. Then, if you do use the back part of the cabinet space, you end up with items in the back of the cupboard that don't get used because you forget they're there. With a roll-out system, you can see clearly in the light of day what you have in your cabinets.
Workstation Cupboard
This cabinet space makes great use of multiple levels of shelving and a small workstation counter space. But the best part of the design is the slide-out drawers. These allow you to see what you have stored. The fact that you can slide out the drawers means you don't have to take up the area with bulky shelving that requires more vertical space.
The sliding drawers also allow the door to swing shut more easily. What you're left with is sleek, hidden storage when the space is not in use. The shelving on the doors is also a nice touch for some added spice storage.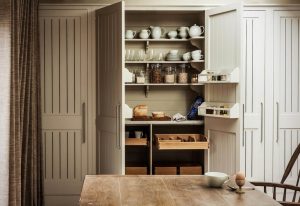 Cupboard/Microwave Nook
One of the ways to maximize the benefits of added storage is to get multifunctional with your storage space. This fold-out cabinetry makes room for a small microwave. It's also a wonderful design idea since it allows you to hide the microwave when not in use. If you're going for a sleek, bright and modern kitchen like the one in the photo, you'll want to hide as many bulky appliances as possible. It makes for a cleaner aesthetic.
This design also makes great use of added shelving on the fold-out doors themselves. When looking at fold-away kitchen storage, ideally no space should go unused. In the same vein, shelving is also well placed around the microwave itself.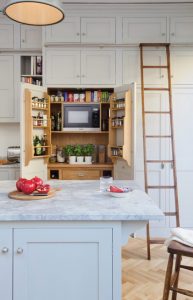 All-in-One Space for Fold-Away Kitchen Storage
Here's another fine example of fold-away kitchen storage. It takes the design above and expands upon it. You have space for a small microwave, but there is also space for other appliances like the toaster. There are even outlets to plug it all in. And the shelving is high enough to get in and use the toaster right in that space. As a result, rather than serving as pure storage, this space also makes a highly functional workstation.
Meanwhile, plenty of pull-out shelving means tons of storage options that don't take up too much space vertically. Shelving of various heights on the doors makes it a good space for storing a variety of items.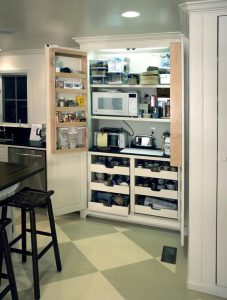 Fold-Out Table
Whether you have a small kitchen space or a large one, a fold-out table can help add extra floor space. It's out when you need to eat and away when you don't. Gone are the days of trying to find a place for the kitchen table or stepping around one.
One bonus is that you are folding the table away when you are done eating. So it's not one more flat space for you to throw your items onto and leave. The fold-away nature of the space can encourage you to keep your kitchen table from accumulating months' worth of junk.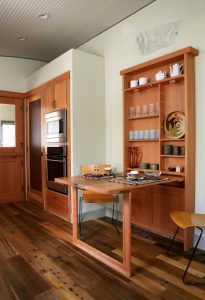 Author: Michelle Honeyager
Reference: https://bit.ly/2ABWbMW