The idea of creating and finding your zen is no longer reserved for enlightened Buddhists, though that is where the concept originated. Today, many strive to bring zen into their homes with the hope of fostering peace and relaxation. One way to start is by decorating your home with specific elements known to enhance well-being.
For example, houseplants can be used to reduce stress and certain colors can work to boost your mood. Invite greenery into your home to increase your sense of calm and use cool paint colors like blue, green, and purple to evoke feelings of serenity. Check out these zen living rooms that will make you feel super relaxed.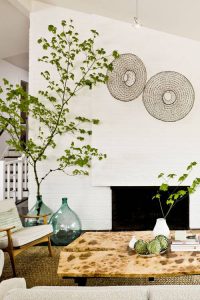 With plenty of earth elements—from a tall, leafy tree to a wooden coffee table—this living room feels connected to nature. The greenery stands out against the bare white walls and promotes stress relief while eliminating toxins from the air. This is a space that looks as good as it feels. Experiment with plants in your own home to achieve this look.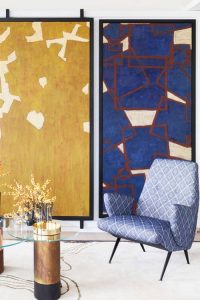 Cool tones are thought to promote relaxation, but if painting your entire living room feels daunting, hang a large-scale painting instead. Add accent pieces with equally cool tones to promote a serene feeling of zen and tranquility. In addition to the calming colors, these floor-to-ceiling works of art feature intricate designs to captivate any onlooker.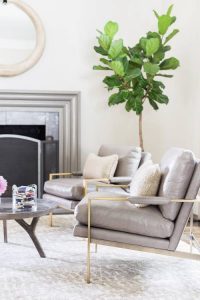 In a neutral space, one plant can be enough to create a zen living room. This gray-and-white room is transformed with a single fiddle leaf fig plant in the corner. The green is bright and soothing, perfectly keeping the room full of life.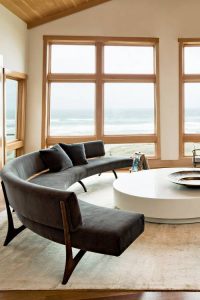 Nothing says zen quite like the soothing sight and sound of crashing ocean waves. This oceanfront home utilizes expansive windows to bring the calming outdoor elements inside. The view paired with sleek, modern designs makes this room feel utterly relaxing.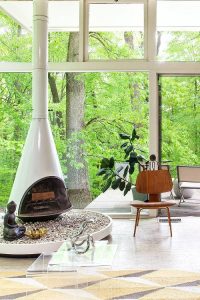 It doesn't get much more zen than being surrounded by a 360-degree view saturated with green nature. This light-filled living room incorporates botanical elements both inside and outside. It also offers a unique fireplace surrounded by stones and statues, which all create a feeling of pure serenity perfect for meditating and focusing on the present moment.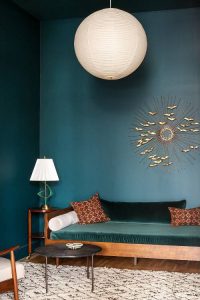 Take peaceful blue elements to the next level, and coat your walls and ceiling with the relaxing shade. In addition to the paint, this room is full of calming elements, from the sunburst wall hanging and lantern pendant to the deep green sofa and sculptural table lamp.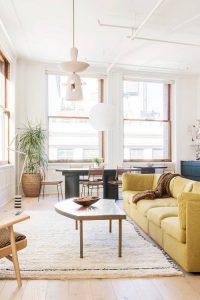 Finally, this open living room features a bright yellow couch and cozy area rug, offsetting the industrial look of the exposed pipes on the ceiling. There are also traces of nature found in a potted plant situated in the corner of the space and, of course, the light let in through expansive windows. Looking at this zen living room is like taking a deep, intentional exhale.
Author: CHRISTIE CALUCCHIA
Link: http://bit.ly/2HQk8yV